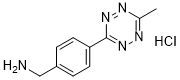 | | |
| --- | --- |
| Catalog #: | AP10689 |
| Name: | Methyltetrazine-amine HCl salt |
| Formula: | C10H12ClN5 |
| MW: | 237.69 |
| CAS: | 1345955-28-3 |
| Purity: | ≥95% |
| Availability: | In Stock |
| SDS: | Download |
Methyltetrazine-amine HCl salt
$170.00 – $1,395.00
| Unit | Price | Quantity |
| --- | --- | --- |
| 100 mg | $295 | |
| 1g | $1395 | |
| 500mg | $850 | |
| 50mg | $170 | |
Would you like to inquire about bulk pricing?
Bulk Inquiry
Methyltetrazine-amine HCl salt
(AP10689)
Description
Methyltetrazine amine linkers contain a methyltetrazine moiety on one end that can be utilized in bioorthoganol reaction with a trans-cyclooctene in an inverse-demand Diels Alder reaction followed by a retro-Diels Alder reaction to eliminate nitrogen gas. They are widely used in bioconjugation application and demonstrate exceptionally fast cycloaddition kinetics with trans-cyclooctene (TCO) as the dienophile.
Methyltetrazine amine PEG derivatives offer flexible linker length and a broad range of functional group options for bioconjugations on the other end of the linkers.  AxisPharm offer methyltetrazine PEG analogues with NHS ester, amine, hydroxyamine, thiol etc to accommodate clients' specific conjugation needs.
Shipping & Delivery
Ships within: 24 hours
Storage condition: -20 ° C
Shipping: Ambient Temperature