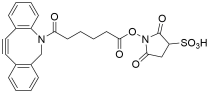 | | |
| --- | --- |
| Catalog #: | AP10865 |
| Name: | DBCO-C6-SulfoNHS ester |
| Chemical Formula: | C25H22N2O8S |
| Molecular Weight: | 510.52 |
| CAS: | 1400191-52-7 |
| Purity: | ≥95% |
| Availability: | In Stock |
| SDS: | Download |
DBCO-C6-SulfoNHS ester
$190.00 – $1,650.00
| Unit | Price | Quantity |
| --- | --- | --- |
| 25 mg | $190 | |
| 100 mg | $480 | |
| 500 mg | $1650 | |
Would you like to inquire about bulk pricing?
Bulk Inquiry
DBCO-C6-SulfoNHS ester
(AP10865)
Description
DBCO-C6-SulfoNHS ester contains an NHS carbonate group and a DBCO group. The spacer contains a photocleavable nitrobenzyloxyl group, which can be efficiently cleaved under UV to release the conjugated molecules. DBCO on the other hand readily react with azide bearing biomolecule through a copper-free click reaction instantly and in high yield.
Axispharm offers 3000+ PEG Linkers with high purity. Different kinds of PEG Reagents may be available by custom synthesis.
Shipping & Delivery
Ships within: 24 hours
Storage condition: -20 ° C
Shipping: Ambient Temperature