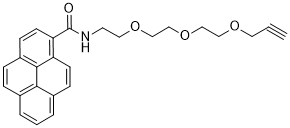 | | |
| --- | --- |
| Catalog #: | AP10578 |
| Name: | Propargyl-PEG3 Pyrene |
| Chemical Formula: | C26H25NO4 |
| Molecular Weight: | 415.48 |
| CAS: | N/A |
| Purity: | ≥95% |
| Availability: | In Stock |
| SDS: | Download |
Propargyl-PEG3 Pyrene
$190.00 – $480.00
| Unit | Price | Quantity |
| --- | --- | --- |
| 1mg | $190 | |
| 5mg | $320 | |
| 10mg | $480 | |
Would you like to inquire about bulk pricing?
Bulk Inquiry
Propargyl-PEG3 Pyrene
(AP10578)
Description
Norbornene readily reacts with azide and tetrazine and is usefulness for cell labeling with fluorophore and functional molecules. Pyrene is used in fluorescence probes in studies of protein conformation and interactions.
Axispharm offers 3000+ PEG Linkers with high purity. Different kinds of PEG Reagents may be available by custom synthesis.
Shipping & Delivery
Ships within: 24 hours
Storage condition: -20 ° C
Shipping: Ambient Temperature